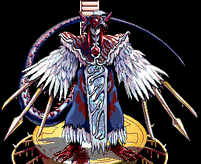 The War God can be found in the Northern Glaciers, guarding the entrance to heaven.
To get to him you must take the "Road to the Shrine of the War God", labeled with a sign courtesy of the Mountain Patrol.
He is very difficult to beat, so Olive must have high HP and Morale. Magic works alright against him, but even then the player must exercise caution as he will tend to land a lot of hits even if you max your combat skill and get good gear against him. Raising combat defense is prudent, as it'll make every hit of his hurt less and allow you to tank him. The god can be defeated through melee attacks, but it's going to be longer since he has good resistance to melee attacks, and his high combat skill will make Olive miss ever so often. He's less resistant to magic attacks and won't dodge any of them, but still puts a decent defense against them too.
If Olive defeats him, she can climb the rest of the stairway to meet her patron deity who will then give her 100 points bonus to her stats dependent on what the deity prizes. She will also receive the War God's sword.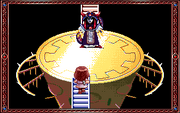 If Olive tries to visit The Shrine of the War God again after defeating him a Mountain Patrol guard will stop you because the road to the shrine "so dangerous." Half-way up the stairs have "collapsed."
FASCINATING. I WILL SHOW YOU NO MERCY!
YOU ARE A FOOL TO CHALLENGE ME!
YOU WILL REGRET THIS, GIRL!
YOU - YOU MUST NOT GO BEYOND THIS POINT...
Health Points: 714
Magic Points: 0
Fighter Reputation: 320
Magical Reputation: 65
Morale: 999
Unlike other enemies, his Morale doesn't go down, and he will fight for as many turns as the player can.
FROM THIS POINT ON, HUMANS HAVE NO SWAY. YOU SHOULD TURN BACK NOW.
I AM THE ANCIENT GOD OF WAR, CHARGED BY HEAVEN TO WATCH OVER THIS PLACE.
NEVER LOSE THE PURE HEART WITH WHICH YOU WERE BORN...
YOU ARE DAUGHTER OF A HERO. THE STARS ARE ALWAYS WATCHING OVER YOU...
I never thought I could be defeated by a mortal. Only the gods should be able to do that... Miss, this is the gateway to heaven. I have guarded it for 400 years, but now that I have been beaten by a mortal, I am no longer fit to do so, and shall retire... Please use my sword with care.