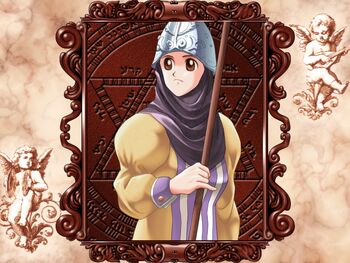 Olive becomes a rank-and-file soldier in the Royal Army.
Description needed.
"Too bad, but at least that is some kind of life." (Original ver.)
Adds +80 points to the final score.
Stats Required
Edit
Minimum Stat Requirements
Morality
30
Fighting Reputation
310
Magic Reputation
180
Social Reputation
180
Housework Reputation
180
Determining Stats Edit
Morals >30
Difference between min~max Reputation stat >50
Fighting Reputation is highest
Available Marriages
Edit
Epilogues
Edit
Determined by Combat Skill.
Epilogue Requirements
Bad Epilogue
Combat Skill <30
Normal Epilogue
Combat Skill >30
Best Epilogue
Combat Skill >75
| | |
| --- | --- |
| Bad Epilogue | Description needed. |
| Normal Epilogue | Description needed. |
| Best Epilogue | Olive gets tired of the monotony of soldier work, so she tries to prove her skill during the Harvest Festivals competitions. A senior officer will eventually notice her skill and promote her to the captain of the Forest Patrol. |
External Links
Edit