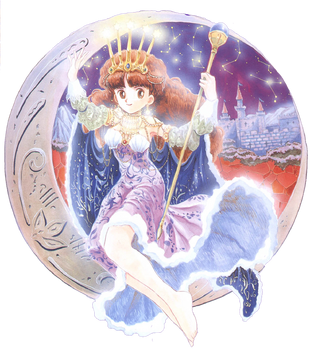 Languages Available In: Japanese (プリンセスメーカー2), English, Korean, Chinese (Traditional), Chinese (Simplified, Refine only)
Production
Edit
Production History
Edit
June 15, 1993 - PC-9801 release version. Medium floppy disk. Number 16 coloring.
December 16, 1993 - DOS / V version released.
September 30, 1994 - FM-TOWNS version released. CD-ROM. 256 color. PCM sound source.
June 16, 1995 - NEC Home Electronics from PC Engine version released. Porting of PC-9801 version. Arcade card support.
July 14, 1995 - Macintosh version released.
August 15, 1995 - Microsoft Windows 3.1 release version. It is not supported in Windows 95, but if the user was able to register up version.
September 28, 2016 - Released on Steam by CFK.[1]
Mechanical Information
Edit
Runs on the following platforms: MS-DOS, Windows, Sega Saturn, PC-Engine, GP32
English version available as a beta and refine version.
Game Mechanics
Edit
Like in Princess Maker 1, the story begins with a demon army attacking the kingdom, led by Lucifon the Prince of Darkness. Lucifon was sent by the Deities to punish the people of a medieval city for their sinful ways.
A wandering Swordsman (You) sneaks into the camp one night and defeats Lucifon in hand-to-hand combat. He and his armies retreat. The grateful King invites you to stay and grants you an annual salary of 500 gold pieces.
Then, one night, the Swordsman hears a voice and goes out to see a girl floating in an orb of light. He is then spoken to by the girl's patron deity who asks him to raise her. How he raises her will determine if mankind has truly repented.
Characters
Edit
Palace Folk
Edit
Townsfolk
Edit
Job Bosses
Edit
Supernaturals
Edit
Olive can work 15 jobs total. However, she only starts with 6 jobs. There are more jobs available as she gets older.
Restaraunt Food
Edit
Pawned Items
Edit
Merchant Items
Edit
Contest Prizes
Edit
Rewarded Effort Items
Edit
Other Items
Edit
Debug/Beta Items
Edit
Locations
Edit
Adventuring
Edit
According to the "Princess Maker Collection 1.2" book, there are 74 possible endings. It is possible to get both a career ending and a marriage ending.
General Endings
Edit
Social Endings
Edit
Fighter Endings
Edit
Magic Endings
Edit
Art Endings
Edit
Housework Endings
Edit
Full/Part Time Work Endings
Edit
Dark Endings
Edit
Marriage Endings
Edit
External References
Edit