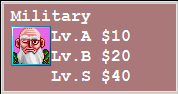 Lv.A +2 EXP
Lv.B +3 EXP
Lv.S +5 EXP
Careful, your mentor can sometimes launch a critical strike ! What I give in "damage" is the maximum damage I received with 5 Armor ( the minimum ).
Having a full stuff (Weapon, Helm, Armor), even a cheap one, helps a lot !
There is also a part of luck, as always with Princess Maker. Sometimes you just need to try several times with the same stats.
Your mentor's stats can change a bit depending on your age and stats !
Level A
Requirement : None
Exam Fee : $50
Mentor's stats : 133> HP 91> Damage [ He's really strong against Magic and has powerful critical strikes ]
I won with :
-Magic : ~400 Intelligence ~150 HP ~50 EXP
-Strengh : ~55 Strength ~103 HP ~33 EXP (Lv.1)
Gain : Title S. + 10 Reputation

Level B
Requirement : Title S. (previous military title)
Exam Fee : $100
Mentor's stats : 171> HP 29> Damage [ She's pretty easy compared to the first mentor ]
I won with :
-Magic : ~300 Intelligence ~100 HP ~70 EXP (Lv.2)
-Strengh : ~89 Strength ~103 HP ~60 EXP (Lv.2)
Gain : Title F. + 10 Reputation

Level C
Requirement : Title F. (previous military title)
Exam Fee : $200
Mentor's stats : 374> HP 81> Damage (Lv.4) [ He's really good at evading attacks, increase your DEX to counter that ( Hunter Job at Age 13 ) ]
I won with :
-Magic : ~400 Inteligence ~275 HP ~150 EXP (Lv.3) + 300 DEX
-Strengh : ~400 Strength ~275 HP ~740 EXP (Lv.8) + 300 DEX
Gain : Title Swordmaster + 10 Reputation
(Credit: By Hyslyne)